Submitting a change of address
You can now request a change of address in the My account tab of the customer zone. This process can be completed in a few easy steps and only takes a few minutes to complete. If you wish to move and also change your internet plan, your tv plan or your phone plan, you will need to submit the requests to modify your services separately.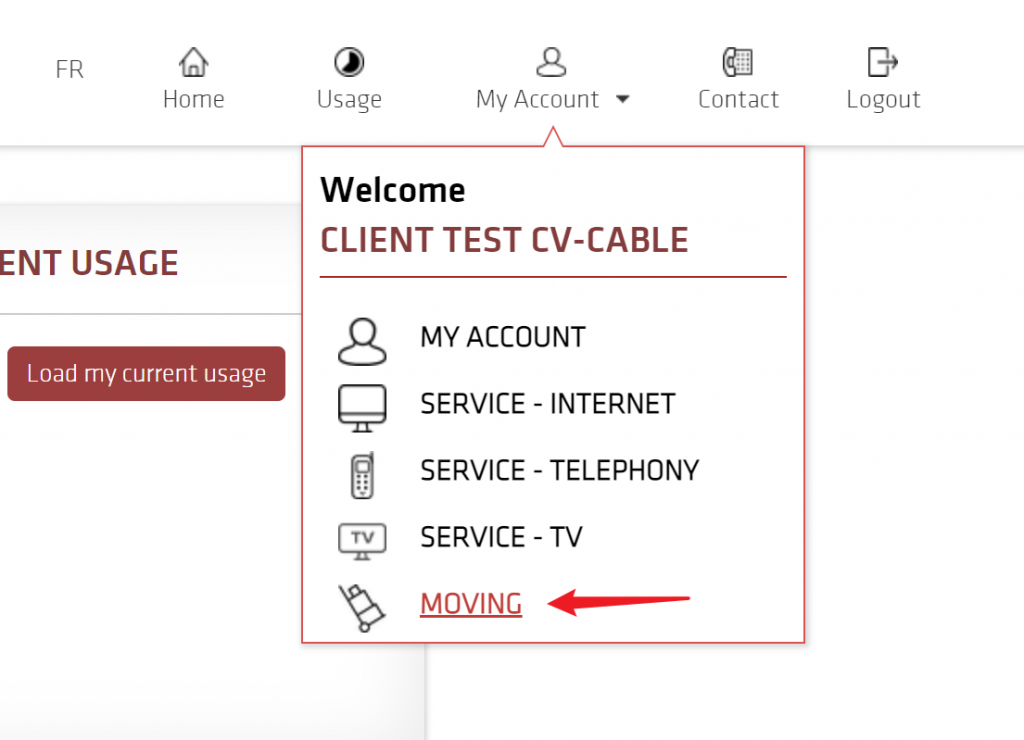 Before we begin
Frequently asked questions
When should I plan my move?
It is best to notify us of a move at least 14 days before you move. If you plan to move during high season, that is to say in summer, it is advisable to notify us of your move as soon as possible since installation times may be longer given the high demand.
How much does a move cost?
The price of a move varies depending on the type of technology. Psst…If you submit your mover order online, you'll benefit from an exclusive discount on your moving fees!
How long does it take?
Moving times vary depending on the type of technology. Check your bill to determine yours. It is indicated on the same line as your plan.The deadlines below are provided for information only. They are subject to change and may vary depending on traffic.
ADSL : 7 days
C-Cable: 7 days
V-Cable (or Q-Cable): 3 to 14 days
R-Cable: 5 days
CV-Cable: 15 days
Is a technician's visit necessary?
A technician's visit is necessary if you subscribe to C-Cable, ADSL or R-Cable technology. V-Cable (or Q-Cable) and CV-Cable subscribers can sometimes benefit from installation without a visit from a technician.
Tutorial
Step 1
Health screening and address qualification
You will first need to answer a few questions related to your contacts and your medical condition to make sure it is safe to have a technician visit.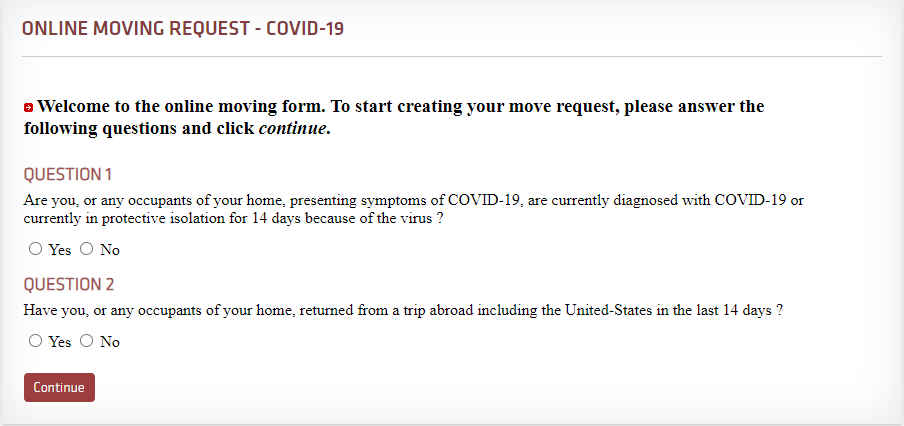 You can then qualify your new address. This step is used to determine if the type of technology to which you are currently subscribed is available at your new address. Enter your new address in the New address field. Please make sure to select the correct apartment number, if applicable.
You will then be prompted to verify that the new address you have chosen is correct. If your new address has an apartment or unit number, be sure to add it in the Apt section. If there is no unit number, check the None box.

Then, select the type of address. If you are moving into a house, apartment, condo or any other type of private property, select the Residential box. If you are moving your services to a commercial space, store, office or other place of business, select the Commercial option.

Step 2
Select the moving date
Indicate the date of your move in the box provided by clicking on the calendar icon. Your moving date is the date on which you will be ready to receive a visit from a technician at the new address. Then, indicate the preferred disconnection date at your current address. We will make sure to disconnect your EBOX services on this date.
A service installation can only be done at your new address once the service at your current address is disconnected. Unfortunately, it is not possible to have active services at both addresses at the same time.

Step 3
Providing your availabilities and submitting the form
You may now select the installation times that suit you. Note that a person 18 years of age or over must be on site for the entire duration of the time slot that will be allocated to you for the technician visit. If you are available at all times, you can click the All option to select all the time slots at once. In the Additional Note section, you can enter the doorbell number, the access code, that the doorbell does not work, etc. This information is relayed to the technician. When you have finished, click Next.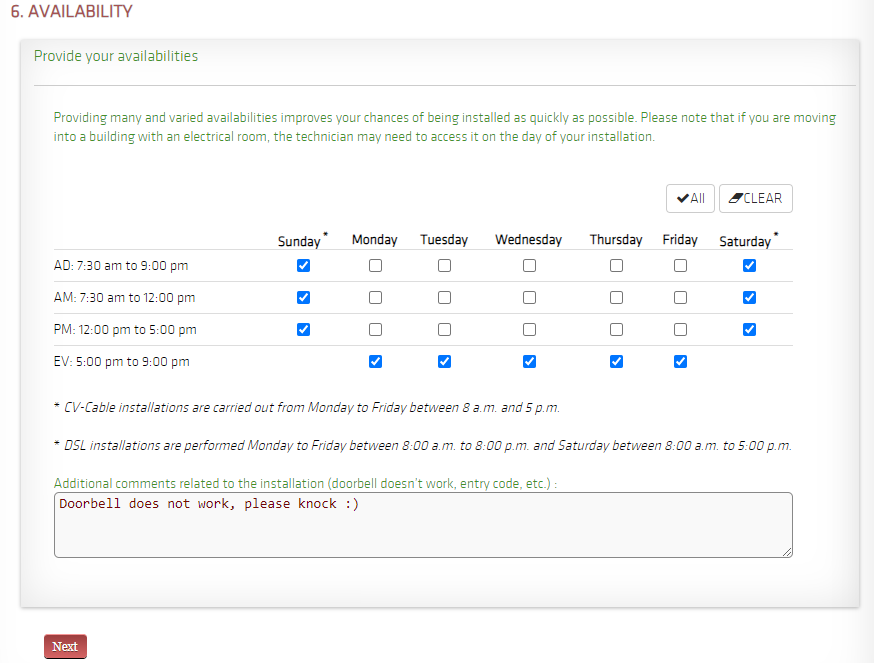 Click Next and Continue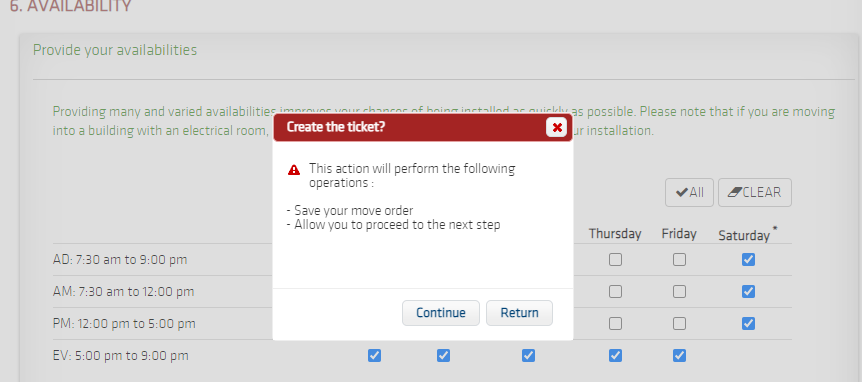 The moving costs will appear on the screen. If you submit the form, the fees will be added to your next invoice. Please check the box to accept the fees and enter your customer zone password in the designated field to validate your consent. To send us your request, click Submit.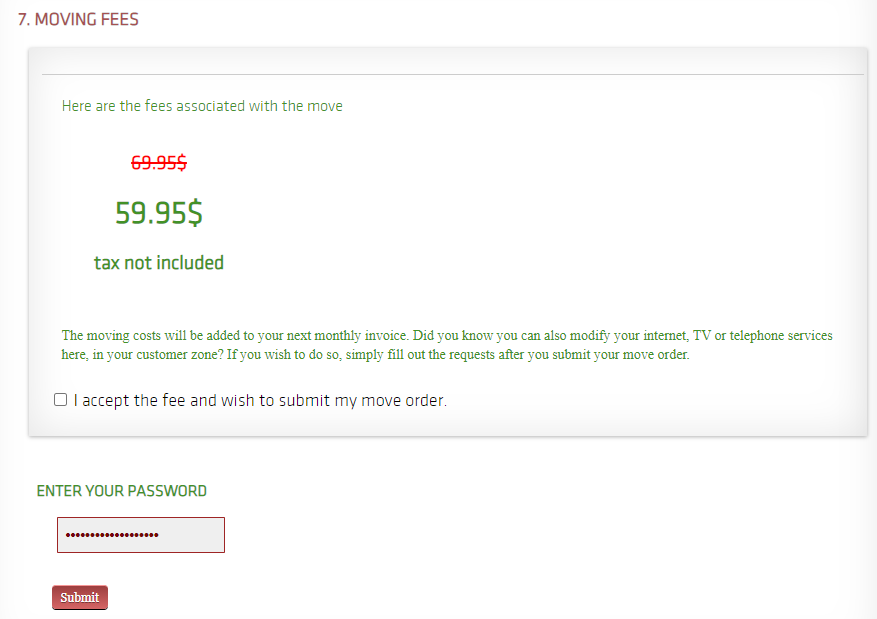 We will contact you three days before your scheduled installation date to inform you of the date and timeframe of the technician visit. You will also receive an email containing all the important details related to your move order.