Protegez-Vous: EBOX at the top of the chart!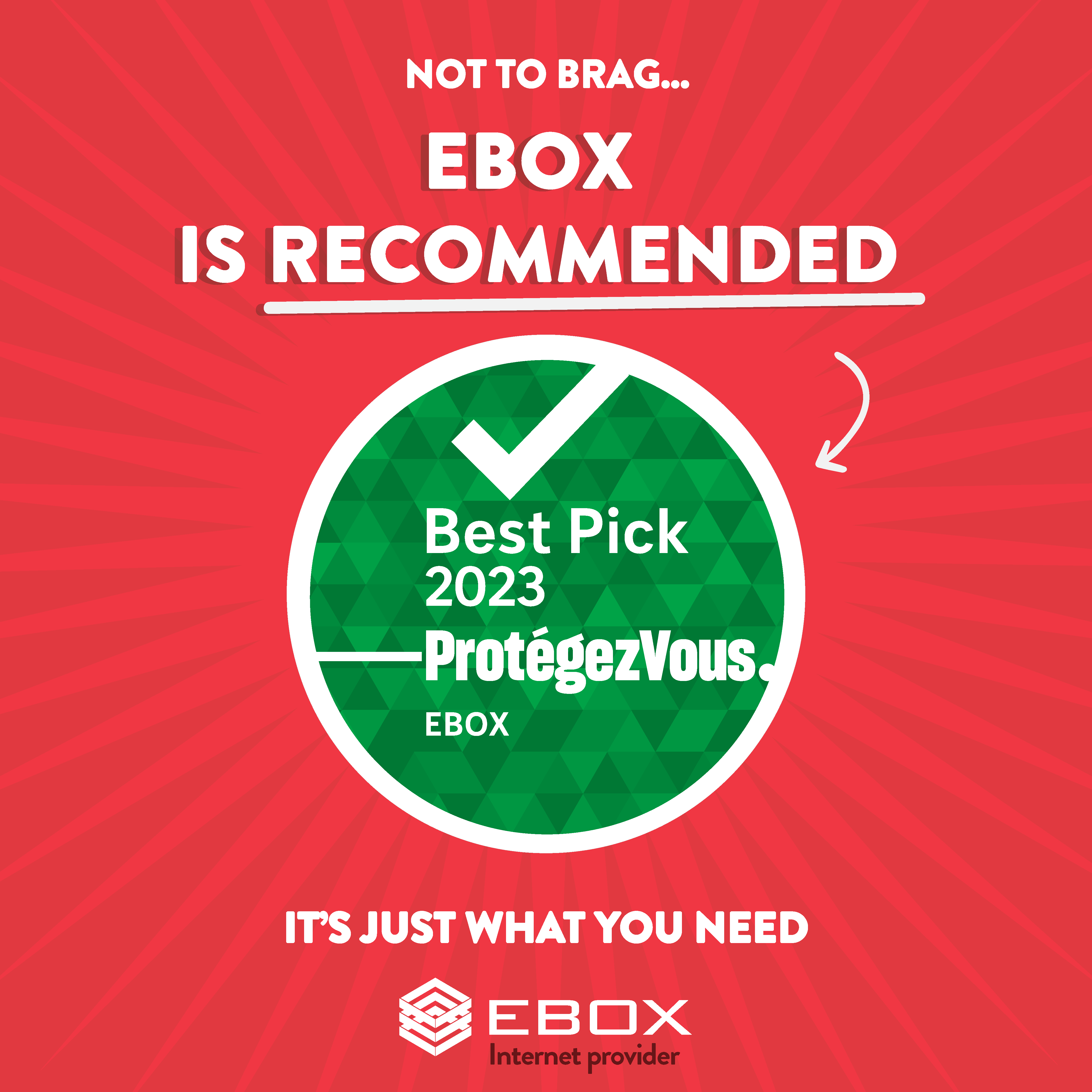 Reading time: 4 minutes
EBOX has once again secured a spot among the top recommended internet providers by Protegez-Vous! EBOX' commitment to providing quality services has been well received by both our customers and reputable organizations like Protegez-Vous.
We are thrilled to share this exciting news with you! This achievement would not have been possible without the unwavering dedication of the entire EBOX team, and the appreciation shown by our customers, who have consistently praised our service year after year.
In 2023, EBOX secures its place at the forefront of internet service providers renowned for delivering exceptional service. The survey highlights:
A global satisfaction score of 8.5 out of 10
Our competitive prices and outstanding service quality
Our remarkably courteous staff
Our extensive expertise in products and services
The remarkable speed and efficiency of our customer service
---
Protegez-Vous: A Trusted Authority
If you are not familiar with Protegez-Vous, let us explain: it's a non-profit organization and a member of the International Consumer Research and Testing (ICRT) community. The ICRT regroups 35 organizations that conduct tests on consumer products.
The team of experts at Protegez-Vous diligently tests products in specialized labs, conducts in-depth surveys, and carries out independent research. With an audience of 435,000 readers through their publications, website, apps, newsletters, and social media, Protegez-Vous is dedicated to helping you make informed decisions.
Empowering Consumers
Each year, the Protegez-Vous experts conduct numerous tests on thousands of products. They continually adjust their evaluation criteria for each product category to provide you with quality information and meaningful results. In an age where reliable reviews and recommendations are in high demand, the Protegez-Vous seal of approval holds immense value for savvy consumers.
The Protegez-Vous Recommended Seal
The Protegez-Vous Recommended seal is a valuable resource for those seeking the best products in the market. Whether you are shopping in stores or online, you can rely on this seal to guide you towards wise and informed decisions.
---
EBOX: A Tradition of Excellence
Since 2017, EBOX has been among the top recommended internet providers, offering the best service according to Protegez-Vous' satisfaction survey. This recognition inspires us to continually push the boundaries and strive for nothing less than excellence.
At EBOX, our mission has always been to provide reliable and affordable high speed internet services to our customers. No need to remortgage your condo to pay for internet. No surprises on your bill either. Our customer service team is renowned for its expertise, kindness, and availability. In short, we are committed to offering you the best possible service.
Thank You To Our Customers and Employees
We are incredibly proud of the recognition bestowed upon us by Protegez-Vous, and it motivates us to continue excelling and innovating. We are deeply grateful to our loyal customers for their unwavering trust and support. Their feedback and loyalty drive us!
We must also acknowledge and appreciate the hard work of our employees. Their dedication to providing the best experience for our customers has been instrumental in achieving this recognition. We firmly believe that a happy and motivated team leads to satisfied and content customers.
To Infinity and Beyond!
As we move forward, EBOX remains committed to providing exceptional service and staying at the forefront of technological advancements in the industry. Our goal is to make internet access seamless, accessible, and enjoyable for all.
Once again, thank you to Protegez-Vous for recognizing our efforts, and thank you to our customers and employees for making EBOX a name synonymous with reliability and excellence in the fiercely competitive world of internet providers.
Remember, EBOX: It's just what you need!
EBOX Internet you want it?
Sign up now