Changing your internet plan
To change your plan, login to your customer zone. The overview of your current plan can be found on the main page, in the Internet Service section. To change your plan, click on the Settings icon.


Choose the month that suits you and select your new plan in the dropdown menu.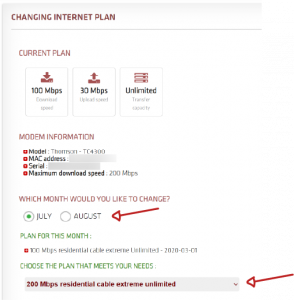 You will then be asked to validate your choice and enter your customer zone password to secure the change. Your new plan will be put in place on the first day of the month you selected in the form.