Your billing cycle
The billing cycle is the same for all of our customers. It begins on the first day of the month and ends on the last day of the month.
EBOX offers a prepaid service. You will therefore receive the invoice for the upcoming month on the 7th day of the current month. The deadline for paying the invoice balance is the last day of the current month.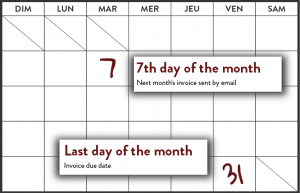 If you subscribe to pre-authorized direct debits, your credit card or bank account will be debited between the 10th and the 15th, every month.
If your account balance is not paid before the end of the month, your services will be suspended on the 1st. You will then have 6 days to make a payment and reactivate your services.
If your payment is not received in full before the 7th, your services will be disconnected. To reconnect your services, a technician's visit will be necessary and will be billed at $30. Regular installation delays apply for reconnections.