The time has come to stop regulatory holidays
Dear subscribers, what are you wishing for in 2021, in addition to good health? We here at EBOX are fighting for just and reasonable rates and price stability in the telecom industry. This is generally where you would stop reading, because—let's be honest—telecommunications regulations don't exactly make for riveting dinner table conversation. But you chose EBOX because you wanted to stop supporting major providers for a variety of reasons, including their prices and their general lack of stability. What if we told you that all of this is at stake, but also that you could have an impact, as small as it may be? Keep reading for more…
Since 2017, we have not introduced any significant price increases for internet service, despite rising costs of living and average personal data usage. We have been able to do this by optimizing our processes and investing as judiciously as possible. Many other providers were forced to raise their prices in 2020, and if things keep going the way they are, it's only a matter of time before EBOX will be forced to do the same. Fortunately, that is not part of our short-term plan, and this is not intended to resemble a letter announcing a price hike. On the contrary, our goal is to improve our prices and offer you more for your money, all without sacrificing the high standards of network quality that EBOX clients are accustomed to.
In order to improve our service offer, however, we are calling on the CRTC, our industry's regulatory body, to enforce just, reasonable rates. It is critical that these rates be updated as soon as possible, because they have a direct impact on what consumers pay. As technology continues to evolve, we have access to more and more power at lower and lower costs. This means that Canadians will be forced to pay even more for their telecom services due to the lack of competition. This has been the case since 2019, and the situation is at risk of worsening.
We must acknowledge that the CRTC did their part, in August 2019, by announcing an important decision—a decision that was met with strong disapproval from major service providers. This decision allowed us to offer just and reasonable rates, which could have resulted in EBOX and other independent companies being able to lower their customers' bills significantly. In addition, as rates are a key point of comparison when customers are negotiating their service contracts with major providers, our reduced prices would have been echoed in the retail prices offered by those major providers and their subsidiary brands. The result? Every Canadian would benefit, whether clients of EBOX or a major provider, thanks to increased competition.
Unfortunately, ever since the decision was announced, the biggest providers have been leading a fight worthy of a Hollywood movie, resulting in the temporary suspension of the CRTC decision designed to lower market prices—a decision the CRTC had been working on for four years leading up to 2019. This decision was the result of rigorous technical and financial analysis, as well as hundreds of legal arguments presenting the positions held by different parties.
Since the CRTC's announcement, major service providers have been involved in a series of legal events: a petition to Industry Canada, hundreds of meetings with lobby groups and ministers, legal proceedings at the Federal Court of Appeals, and, just recently, a final appearance before the Canadian Supreme Court, in which they did their best to demonstrate that the CRTC is in the wrong and that this issue is of utmost national importance. Major service providers claim, among other things, that if the CRTC decision is upheld and prices are lowered, they will be unable to develop their network in underserved areas. Ironically, the government has just established a $1.75 billion fund to finance the construction of broadband networks in those same regions. We see all of this as a ruse to continue benefiting from the lack of regulations and to control retail prices in order to maximize profits.
That is why we are launching a public relations campaign to ensure that the new Minister of Industry, the Honourable François-Phillipe Champagne, who is expected to make a ruling in 2021, is well informed on the issue. Will he support the CRTC decision by putting an end to the lack of regulations, or will he give in to the arguments of the industry giants, causing an inevitable rise in market prices? As for the Supreme Court, we hope they will follow the example set by the Court of Appeals judges, who unanimously rejected the major providers' demands, deeming them to be "of dubious merit". In the meantime, we invite you to share your opinion by signing this online petition.
Did you know that 38% of Canadians still have an internet connection speed below the 50 Mbits CRTC's targets, despite the availability of the appropriate technology to improve it. The reason for this is the price of such services. In large urban centers such as Toronto, nearly 40% of households still do not have an internet connection with decent speed. A decent internet connection is a basis for teleworking and distance learning and it is outrageous that Canadian families are having to do without it because it is too expensive, which contributes to the increase in disparity between social classes.
Reported Home Internet Download Speed
100 + mbps : 36%
50 to less than 100 mbps : 25%
20 to less than 50 mbps : 22%
5 to less than 20 mbps : 13%
Less than 5 mbps : 3%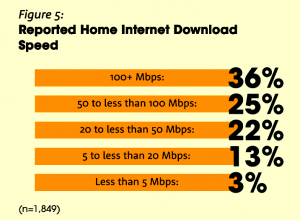 Reason Why Respondents Have No Home Internet
The monthly cost of Internet service : 49%
No device that can connect to the Internet : 25%
Uses a mobile phone data plan instead : 22%
Has access to the Internet elsewhere : 16%
EBOX Internet you want it?
Sign up now